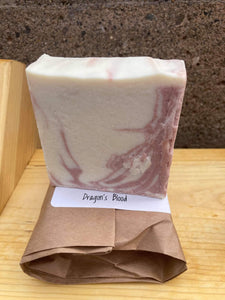 Dragon's Blood
Regular price
$8.00
$0.00
Scented in Dragon's Blood
A kiddo once asked me if I use real dragon's blood. I said 'Yes, he gives it to me, it's magic.' He asks 'What do you feed it?' Naughty children', I say. His eyes got big and insisted that he was a good boy and he wouldn't be fed to my dragon. I wonder how long he will believe it. 

What I enjoy about this one is how mild the scent it. I would have loved for a stronger scent, but this made me stop and really focus on the scent than it being hoisted into my sinuses like many other heavily scented soaps. You can really start to smell it in the shower, it's a real clean smell. 
Cleansing our bodies is a ritual on it's own. Wash away the stress and pollution of the day and set your intentions for the next. 
Ingredients: Saponified olive and coconut oil, shea, mango, and cocoa butter blend, water, fragrance/essential oil, mica
---
Share this Product
---
More from this collection