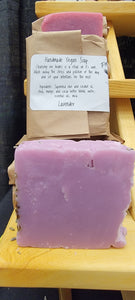 Lavender
Regular price
$8.00
$0.00
Lavender is one of my all time favorites, as well as many other people! Why? It's a classic clean, floral, feminine scent. However, have you smelled a man after a lavender shower? Oh my, bless the Gods for his Divine Masculine!! Whew! 

Made with real lavender petal harvest from mine and neighboring gardens - not certified, but definitely organic. Another way I support local. 
Cleansing our bodies is a ritual on its own. Wash away the stress and pollution of the day and set your intentions for the next. My soaps are made the old-fashioned way, with cold process! My soaps don't contain any parabens, petroleum, detergents, chemicals, alcohol, or preservatives that are commonly found in commercially made soap. 
Ingredients: Saponified olive and coconut oil, shea, mango, and cocoa butter blend, water, essential oil, mica, lavender buds
You found a discount code!! 
CertifiedDime for 10% off with at least 4 items in your cart. 
---
Share this Product
---
More from this collection